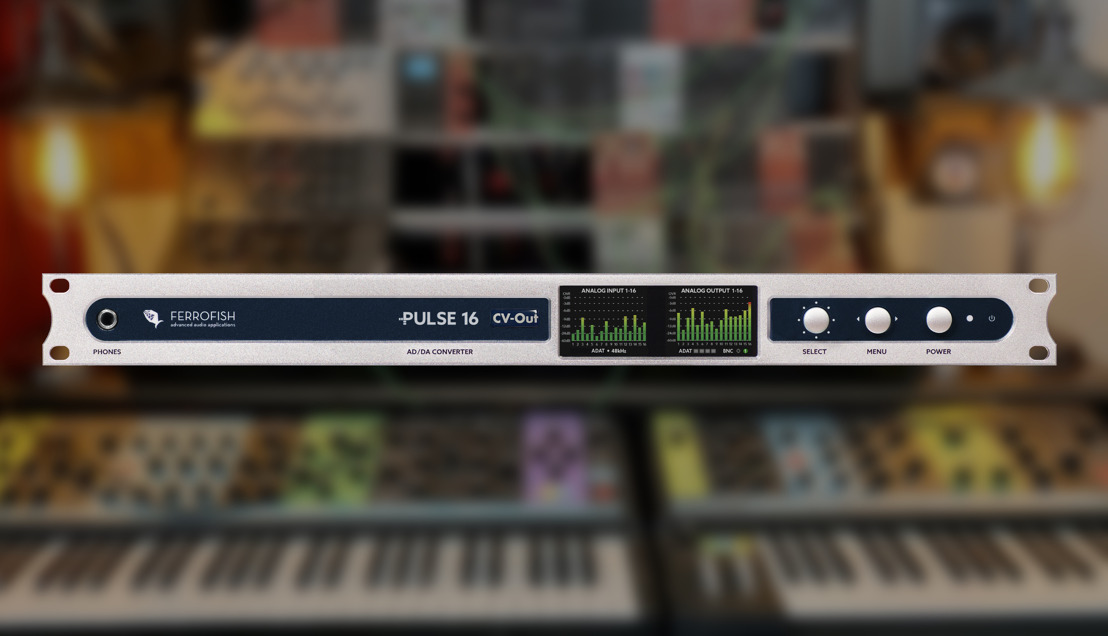 Ferrofish's New PULSE16 CV Out Converter Is a Powerful Tool for Synthesists, with 16 Channels of I/O and CV/Gate Output
Fort Lauderdale, Florida, February 22, 2021 — Leading German converter manufacturer Ferrofish announces its Pulse16 CV Out, which is of particular interest to electronic musicians and modular synthesists looking for an increased level of performance control over their analog equipment.
The Pulse16 CV Out converts 16 x 16 studio-grade balanced analog inputs and outputs up to 96kHz to ADAT I/O. The 1U space rack unit also features a CV/Gate instead of MIDI on the Pulse CV Out modification, a useful tool for controlling analog gear directly from the DAW.
Ground Control
A useful tool for electronic musicians or synthesists who routinely employ CV in compositional and performance parameters, the Ferrofish Pulse16 CV Out is compatible with electronic equipment and modular synths that can accept CV signals. Generally speaking, CV enables users to manipulate various performance parameters in analog equipment — including VCOs (voltage-controlled oscillators), filters, drum machines and sequencers. Changing a voltage signal may cause a pitch to increase or decrease, while a gate may cause other functions to start or stop — these functions are all user defined.
"One of the core components at Ferrofish is providing end-users with cost-effective, high-performing converting solutions," said Derek Badala, Director of Sales, Americas for Synthax, distributor of Ferrofish. "The Ferrofish 16 CV Out brings electronic musicians and modular synthesists a new dimension of creative control, enabling them to send CV directly from their DAW. This can vastly extend the possibilities for both studio compositions and live performance."

High-Performance Ready
The Pulse16 is a high-density converter providing 16 x 16 balanced analog TRS I/O and is relied on by some of the biggest names in recording. Thanks to its Cirrus Logic converter chips, the Pulse16 operates with an active digital jitter elimination, which compensates shifts or jitters in the audio signal and provides audio engineers with the highest-quality audio possible. The Pulse16 family now includes the Pulse16 DX, Pulse16 MX and the original Pulse16.
For more information, visit ferrofish.com.
About Ferrofish
​Known for its precision-engineered German technology, Ferrofish manufacturers high-quality, innovative advanced audio applications. From its class-leading A16 MK-II and A32 AD/DA converters to its Verto Series of intuitive Dante converters, Ferrofish is known for its premium conversion solutions that are ideal for a wide range of applications. For additional information, visit the company online at http://www.ferrofish.com.
About Synthax, Incorporated
​Synthax Inc. is the exclusive USA distributor for RME digital audio solutions, Ferrofish advanced audio applications, myMix audio products, and ALVA cableware. We supply a nationwide network of dealers with these products for professional audio, broadcast, music industry, commercial audio, theater, military and government applications. For additional information, visit the company online at http://www.synthax.com.

Jeff Touzeau Public Relations, Hummingbird Media, Inc.

Katie Kailus Public Relations, Hummingbird Media, Inc.